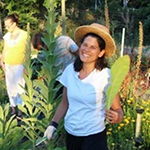 Sivananda Ashram Yoga Farm Permaculture Design Course
This all-inclusive course is offered at the Sivananda Yoga Farm in the beautiful Sierra Nevada foothills in Grass Valley, California.
The daily rhythm of the course includes morning and evening meditations, chanting and spiritual lectures. Yoga classes and high quality organic vegetarian meals are provided.
Come connect with the earth, with yourself, and with community. Network with like-minded individuals. Experience the great outdoors in a whole new way through hands-on permaculture practice. Rekindle a deeper meaning in life and a new vision.
This is a two-part Course: April 2-7, and June 5-11, 2020
Address
2091 Route 130
Harrison City, PA 15636