Permaculture Institute of North America
PINA supports professional development for PDC graduates through continuing education, mentorship, diploma recognition, and employment. We identify, fund, and staff critically important projects in land, community, and climate regeneration.
Member Voting Feb 1 – Feb 28
Help us select the winner of the 2019 PINA Design Contest. Members, please log-in to vote.  You can become a member at any time before Feb. 28 and vote. 
This year's contest offers prizes in two areas. Community Development – $3,500 PRIZE and  Media & Communications – $1,500 PRIZE! 
North American Leadership Summit

August 20-23, 2020
Loveland, Colorado, USA
PINA is preparing registration facilities for this event, which will soon be available here. In the interim, if you would like to contribute funds or participate in the event, which will develop strategies for the continental movement to address climate cooling, land repair, and community empowerment, please write Peter Bane, ed@pina.in, with NALS in the subject line.
Forty-two amazing permaculture designs were submitted for the PINA Design Contest. A selection of the designs have been posted and archived for all to see.  SEE THE DESIGNS FROM 2018.
Contest winner Tao Orion's Integrated Water-Harvesting Earthworks provide access, water harvesting potential and fire resilience by developing a pond using Keyline design principles.  Construction began in June and is now complete.  See a full report on the project in the January 2020 PINA Newsletter.
The PINA-organized 4 session webinar with Zev Friedman reviews the heritage of mutual aid in the US and internationally and works through an emerging pattern language to see how it applies to a wide range of projects that can generate economic self-governance. A particular juicy area for exploration is how regional mutual aid initiatives might form the basis for PINA hubs. This webinar provides Continuing Education Credit for PINA diplomates. More information and recorded webinar purchase.  Members $20, non-members $30.
MEMBERSHIP
Our members are graduates of the Design Course who seek to advance the standing of permaculture in North American societies. Through PINA, they enjoy access to training, mentorship, work exchange, and professional networking.
DIPLOMAS
Through a program of self-directed action learning, mentorship, and peer review, the PINA diploma recognizes post-PDC accomplishment and excellence in a growing number of specializations. Diplomas are affordable, flexible, compatible with working careers, and available for individuals at all levels of experience.
CONTEST
The NatureWise 2018 Design Contest is the first in a series of competitions open to PINA members, that elicit creative solutions to social and ecological problems, and which reward both holistic thinking and skillful means. We are displaying the best work from this year's 42 entries through a weekly blog.
CONTINUING EDUCATION
PINA diplomates renew their professional qualifications by obtaining credit for continuing education at least every three years. PINA sponsors convergences, webinars, and short courses that fulfill this requirement. Advanced or specialty courses in permaculture disciplines may also qualify. PINA sponsored events that qualify for CCE in 2019-2020 include the Global Earth Repair Conference; Integrated Water Harvesting, a 2 part hands-on workshop at Aprovecho Institute in Oregon in June and Fall 2019 for implementing the winner contest design; a 4-session fall 2019 webinar on Mutual Aid with Zev Friedman, and a Spring 2020 Urban Permaculture Convergence in New York.
FUND FOR REGENERATION
Permaculture has answers for the urgent problems facing humanity. Help us mobilize talent and apply it for maximum leverage by donating to build resilient communities, vibrant landscapes, and a cooler planet.
MISSION
The Permaculture Institute of North America (PINA) supports students and experienced practitioners of permaculture in North America and Hawaiʻi.
May 3-5, 2019.   PINA co-sponsored this comprehensive summit on the challenges facing permaculture activists and allies over the next decade. Important discussion and networking addressed context, strategies for mobilizing work, design thinking, and techniques. Many videos were made of conference workshops and are being uploaded to the GERC youtube channel where you can view them for free.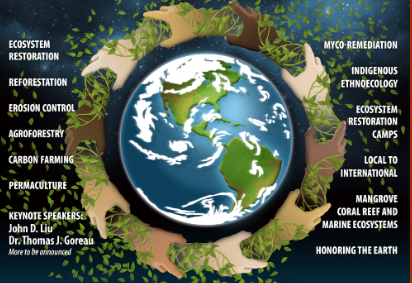 Large or small, your donation supports the work of PINA and helps advance the quality of the permaculture movement.